find help
Overwhelmed with home repairs? You've come to the right place.

APPLICATION INFORMATION
Applications are ONLY available for our Levy County Safe at Home Program. Please visit our "Apply for Services" page for more information. As applications open for our Alachua County Programs, we will make the information available here.
In the meantime, please visit this page to learn more about our programs.

*Information below for previous informational purposes only
QUALIFICATIONS REQUIRED FOR SERVICES
To qualify, applicants must:
Live in Alachua County
Own their home, with property taxes current
Have clear deed to the property
Meet the income guidelines (see below for the 2022 guidelines)
Complete the application during the open cycle
Provide proper documentation including:

ID for each person living in the home (examples include copies of: Photo ID, birth certificate, school documents, or Social Security card)
Verification of each income source
Household Income Guidelines by Family Size
Please refer to the chart below for the income guidelines, based on the 2021 HUD Average Median Income Limits for Alachua County.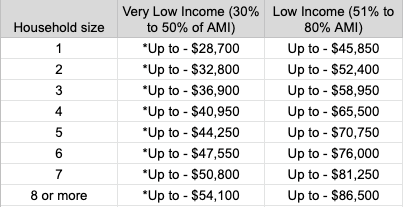 If you have any questions regarding our processes, please feel free to contact our office at (352)373-2573.