With your help and support, this year started off strong! So far, we're working with 11 amazing families to stop roof leaks, upgrade faulty electrical systems and fixtures, unclog pipes, build sidewalks and wheelchair accessible ramps, and so much more. We're incredibly proud of what we are accomplishing together as a community!
Thanks to our Sponsors, Partners, Donors, and YOU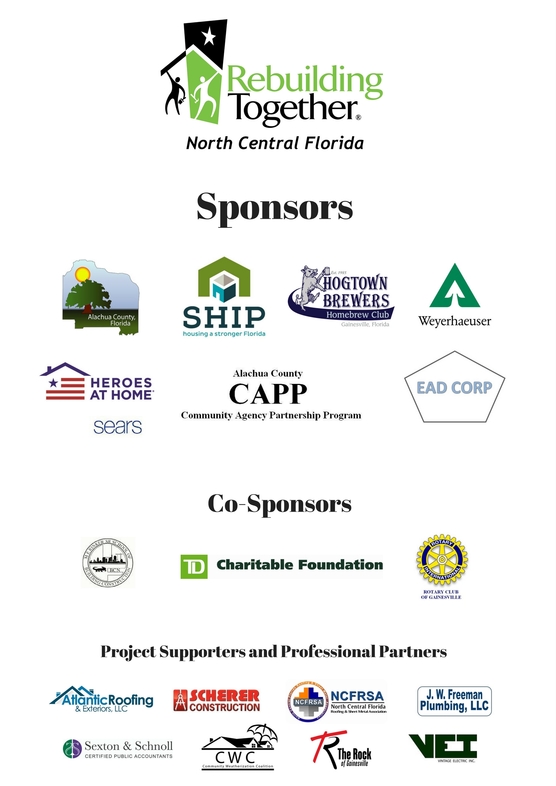 In addition to making homes physically safer and healthier, Rebuilding Together builds relationships, instills hope, and inspires goodwill in our neighborhoods and communities. Of course, none of this would be possible without your support. We want to take this opportunity to say a HUGE Thank You to everyone who makes this mission a success!
We also wanted to invite you to join us in continuing our good work by:
1) Joining our growing list of "Foundation Builders" in making a monthly gift to support our ongoing programs.
2) Getting a group together from your business, club, church, or service organization to Sponsor a project! There are plenty of sponsor options available to suit the size, capacity, and skill level of your group. Contact RD at programs@rebuildingtogetherncf.org for more information on sponsorship, as well as tax credit and refund opportunities for businesses that support eligible projects!
3) Using your specific talents and abilities to move our mission forward! Contact our office to let us know what your skills are, and we'll find a way that you can help to improve our programs and services.
4) "Liking" our facebook page: facebook.com/RTNCF and following us on Twitter @RTNCF. We want more people to know about the amazing opportunities we have available, and we want YOU to hear from us more often!
We're looking forward to a great summer and fall, and again–Thank You for your part in making Alachua County safer and healthier!